Composition & Music Production
For Media
I compose and produce music for audio-visual media such as film, commercials,
image films, signations and sound-logos.
Browse through my music and projects and feel free to contact me for further information.
Brewberry Spell
Romantic, DE, 2023
10min Short by Annika Nimz

Grenzer
Drama, DE, 2023
30min Short by Harry Besel

music in cooperation with Dominik Wallner
Kein Spiel
Crime; Thriller, DE, 2022
85min Feature Film by Szene9; Benedict Schulz
watch it on
Amazon
Liebe, Drogen und weitere Laster
Coming of Age, DE, 2022
40min Short by Julian Lippke
Happy Fucking Whatever
Dark Comedy, DE, 2022
25min Short by Madeleine C. Bonneau
©Patrick Zajfert
Gunima Reloaded
Fantasy-Western, DE, 2022
30min Short by Ömer Pekyürek
besides Film, i've written and produced music for ads, imagefilms and signations. Amongst others for
this is a selection – please contact me for a private link to showreels and full playlists
I'm a composer and producer for media music from Salzburg, Austria.
I've written for film and commercials, created sound logos and musical signations and also perform as a live musician.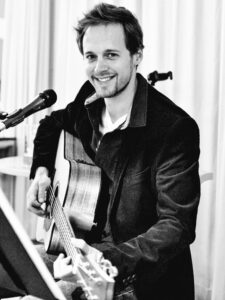 I live and work in the beautiful city of Salzburg, Austria. Here I own a small music production studio, where, besides writing music, I can record and mix a lot of the music, I produce.
For as long as I can think, I've had a connection to music, learned various instruments throughout my childhood and youth and ended up studying the saxophone in my early twenties. I've played in various bands, always keen on learning new instruments and musical styles.
While my musical education in school was oriented more towards classical music, I got to know to Pop and Jazz music through my experiences in bands and later at the university. Today, I like the possibility of picking elements from all different styles when writing and producing music.
This also eventually led me to filmscoring. Telling stories and supporting pictures and emotions offer a great musical freedom and can be achieved in so many different ways and styles. Being not limited in one musical language and though creating a consistent and coherent sonic picture is one of many aspects, which keep this job so fascinating to me.
I then studied 'advanced filmscoring and -production' and started to work as a full-time composer and producer.
I collaborate with a variety of musicians here in Salzburg, from classically trained instrumentalists and singers to Jazz-, Pop- and Rock-artists. Also I work with two larger studios around the corner in case of more extensive recordings.